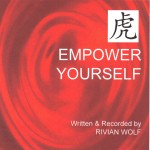 In this working (not relaxing) CD you will journey to uncover who you truly are, separate and apart from everyone and everything else in your life.  You will also learn how to decide upon, set and achieve realistic goals for the life you want to lead – how to make yourself a priority.
Who Are You? will clue you in to the presence of your guardian angel as well as how to communicate with all of your guides and angels.  With their assistance you will then be guided to uncover your true identity – what your likes, dislikes, wants and desires really are.
Personal Power refers to the power you have within yourself.  When embraced, personal power can be sensitive, nurturing, confident – and empowering.  Since the Solar Plexus Chakra is the center of one's personal power, you will be guided through several exercises designed to strengthen this chakra.
Personal Harmony & Balance works on evaluating and organizing all of the priorities and demands that your life presents.  Which areas of your life (family, career, health, relationships, finances, spirituality, etc.) are the most important to you right now and in which are you willing and able to invest the most time and energy?
Personal Peace encourages you to take some time for yourself – to put yourself first.  Nurture yourself physically, mentally, emotionally and spiritually.  Make yourself a priority.